At John C. Munro Hamilton International Airport, health and safety is our top priority. We understand there is increasing concern about COVID-19 among travellers, employees and the public. The Public Health Agency of Canada (PHAC) continues to assess the public health risk associated with COVID-19. Our goal is to provide you with regular updates on operations at Hamilton International as we continue to monitor developments within the community and our industry.
Government of Canada Removes COVID-19 Border and Travel Measures
Effective October 1, 2022, all travellers, regardless of citizenship, will no longer have to:
submit public health information through the ArriveCAN app or website;
provide proof of vaccination;
undergo pre- or on-arrival testing;
carry out COVID-19-related quarantine or isolation;
monitor and report if they develop signs or symptoms of COVID-19 upon arriving to Canada.
Transport Canada is also removing existing travel requirements. As of October 1, 2022, travellers will no longer be required to:
undergo health checks for travel on air and rail; or
wear masks on planes and trains.
Although the masking requirement is being lifted, all travellers are strongly recommended to wear high quality and well-fitted masks during their journeys.
For more information on the removal of COVID-19 border and travel measures, please click here.
Air Terminal Building Policies in Effect
Terminal Access
All persons entering the terminal building will be restricted to using the designated 'Departures' entrance near check-in. Exit from the building is permitted from any of the doors.
What Hamilton International Airport is Doing
Hamilton International is continually examining each step of the traveller journey through our facility and have implemented a number of new and enhanced health and safety measures to ensure you have a comfortable and convenient travel experience from the time you park your car to the time you board your aircraft. Health and safety measures include:
Increased frequency of cleaning and disinfecting in high-traffic areas throughout the terminal.
Anti-microbial shield treatment applied on frequent touch points to prevent the growth of microorganisms.
Increased audio and visual messaging communicating health and safety reminders.
Installation of acrylic protective barriers at communication points such as check-in counters and boarding gates.
Increased touchless hand sanitizing stations deployed throughout the Airport.
Hamilton International Airport has also achieved accreditation under the Airports Council International (ACI) Airport Health Accreditation program for its commitment to prioritizing health and safety measures. This accreditation demonstrates that Hamilton International's ongoing efforts to protect travellers, employees, and business partners are in alignment with industry best practices and global standards.
ACI's Airport Health Accreditation program is designed to help reassure the travelling public and stakeholders that airport facilities remain safe and that appropriate precautions are being taken to reduce any risk to their health. ACI's evaluation process assesses the new health measures and procedures introduced as a result of the COVID-19 pandemic in accordance with recommendations from the International Civil Aviation Organization (ICAO) Council Aviation Recovery Task Force (CART) and industry priorities. Areas of assessment for accreditation include cleaning and disinfection, physical distancing (where feasible and practical), staff protection, physical layout, passenger communications, and passenger facilities.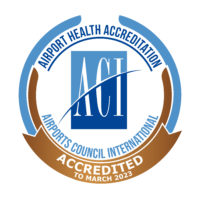 What You Can Do
To reduce the spread of coronavirus, PHAC recommends following the same precautionary measures as you would to help prevent the spread of cold or flu:
Wash your hands often with soap under warm running water for at least 20 seconds.
Use alcohol-based hand sanitizer only if soap and water are not available.
When coughing or sneezing, cover your mouth and nose with your arm to reduce the spread of germs.
If you use a tissue, dispose of it as soon as possible and wash your hands afterwards.
Avoid touching your face, eyes and mouth with unwashed hands to avoid germ transfer.
Airline Advisories & Additional Resources
Please review your airline's advisory and additional resources prior to travel.
Web Page Last Updated: October 2, 2022